This is the post I sent to Frosting for the Cause. It posts on their site today! Yeah! I am making my donation to a local chapter of Relay for Life. Make sure to visit the site and sign up if you can!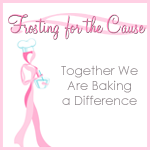 I racked my brain trying to think of something awesome to post for
Frosting for the Cause
. I thought I would do something with royal icing and make a cool cookie. Then I was like, no you make awesome cupcakes…how about do a cupcake. After much thought I remember why I signed up to do this.
A year and a half ago I lost my Grandma to cancer. It started in her lungs and spread throughout her body. I will spare all the details about how awful it was for her and how awful it was as her family to see someone who had lived for almost 80 years to have to die in such a horrible way. Instead I will focus on the positive.
My Grandma was a church loving worry wart. There's no other way to describe her. She loved her church and her faith and she loved to worry about her entire family.

When my oldest daughter was little she would call me every single morning to give me a weather update so I would be sure to dress my daughter appropriately. She would say," Kaci it's snowing really hard and the temperature is around 15 degrees. Make sure to put Big Sis' heavy winter coat on her today." Seriously, every single morning. Sometimes she would call me and say things like, "Kaci I just heard on the news that it is raining really hard and that the roads are slippery. Be careful when you cross the bridge because if you hit a puddle of standing water your car might slide and crash off the side of the bridge." What a nice way for my Grandma to help me start the day, at 6:30 am. When I would hear my phone ring at this hour, I always answered, Hi Grandma, instead of Hello. I knew it was her. It was hard not to roll my eyes at her and say things like, "Really it's snowing? I had no idea that white stuff falling from the sky was snow, let alone cold." Who am I kidding…I would say things like that to her and she would just giggle and say "Oh Kaci, you know I worry."


When I was in college I received care packages from my Grandparents that included things like stamps, change for laundry, band aids and other odds and ends that I hardly ever would buy for myself. They always included a batch of my favorite oatmeal cookies. There was something yummy and delicious about them. I would eat the entire batch in about two or three days and NOT share a single one. She always packaged them in an old oatmeal container with a sheet of wax paper covering the cookies under the lid. I don't know why I remember that…but when I package things now, I always put a sheet of wax paper over them before I put the lid on.


After much thought I realized sharing the recipe of the oatmeal cookies would be perfect for this post. It's nothing fancy and nothing complicated. Just a simple cookie that makes me think of my Grandma every time I make them.
¾ cup of shortening
½ stick of margarine
2 egss
1 tsp vanilla
¾ cup of brown sugar
½ cup of white sugar
2 ½ cups of flour
1 tsp baking soda
½ tsp salt
2 ½ cups of oatmeal
¾ cup of finely chopped walnuts
Directions
Heat your oven to 350 degrees.

Mix together shortening and margarine until blended and a little fluffy.












Add both the brown and white sugar. Mix until just blended.
Combine flour, baking soda and salt. I usually give it a little stir with a fork just to combine.
Turn your mixer on lowest setting and slowly add flour mixture. Mix until just blended.
With your mixer still on low slowly add oatmeal and then the walnuts.
Keeping your mixer on while you add the oatmeal and walnuts works best with a kitchen-aid mixer. I am thinking if you have a hand held that you don't need to keep it on while you add it. Sometimes my kitchen aid doesn't scrape the bottom of the bowl very good. Adding the oatmeal and nuts while its running seems to get everything mixed nicely.
I use my small Pampered Chef scoop to place the dough on a parchment paper lined cookie sheet. I think the scoop is about 2 tablespoons. I bake them for about 12 minutes or until golden. When you remove them from the oven, immediately remove them from the cookie sheet or at least nudge each cookie so they don't stick to the sheet. Also, the cookie won't spread much. It holds its shape pretty good. This recipe makes about 60 cookies.