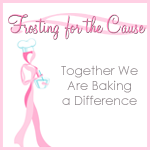 I am excited to be participating in this awesome event!
It's called Frosting for the Cause.
or by clicking on the button above.
I think I'm going to have to step up my game if I want to have a great post.
I might have to try out a few things and post them here first.
My date to bake and post is April 23.
I am donating my money to a local Relay For Life Team, who is turns donates to The American Cancer Society.
The goal of the cause is to have someone bake for each day of the year.
So far she has people signed up through May.
If you are a baker, or like to bake, or want to bake and
would like to make a small donation check out her sight.
It's a great idea for a great cause!