She found it at Little Wonders' Days: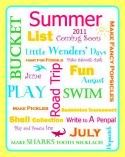 I should just say I am a HUGE fan of lists.
So I thought I'd put one together.
My Family Summer Bucket List.
1. Go to all the beaches in our area.
From my count that's at least six.
2. Have a big neighborhood water balloon fight.
3. Jump in the sprinkler as often as possible.
4. Fly kites at the park.
5. Have lots of fires in the fire pit.
6. To go with number 5, make lots of s'mores.
7. Plant a small veggie garden.
9. Paint the driveway with washable paint.
10. Go to the hot air balloon festival.
11. Ride bikes so my little ones can finally learn to peddle.
13. Go to our community pool as often as possible.
14. Paint our living room, third floor playroom and the kitchen. Okay, that's more for me, but it needs to be done.
15. Take our fatty dog for lots of walks.
That's it. I'm sure I forgot a dozen things.